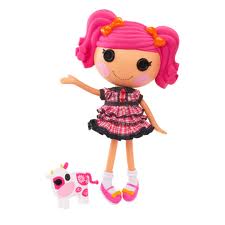 Berry Jars 'N' Jam was the 12th Lalaloopsy to be released. Her twin sister is Sunny Side Up !
Infomation
Sewn On: October 12th (Old Farmers Day)
Sewn From: A farmer's shirt and overalls
Likes: Cold Milk
Dislikes: Rotten Apples
Most likely to say: "Pancakes, anyone?"
Personality
Berry Jars 'N' Jam loves animals just as much as her twin sister, Sunny Side Up. She's sweet and kind, and always ready to lend a hand on the farm. And after a morning full of hard work, a blueberry pancake breakfast is just what she needs.
What Berry Looks Like
Hair Color: Pink
Bow Color: Orange
What she wears: A pink and white plad dress that has 3 layers with black lace. She also has a black collar with black laces going down it
Her sewn-on pattern on her dress: A white and pink plad pattern
Other things on her dress: Two red buttons going down from her collar
Shoes: Pink Maryjanes with a orange bow on top of each one.
Berry's Pet
Berry has a cute pink and white cow! Like sunny's pet chick, it has designs on it's spots.
Berry's Home
Roof: Pancakes
Wall Color: A yellow and white plad pattern with 1st place ribbons on the left side.
Berry's Other Merchandise
Berry Full Size
Full Size Twin pack with Sunny Side Up
Berry Mini
"Berry's Blueberry Party" Mini
"Berry's Kitchen" Mini
Berry Pencil Topper
Berry Mirco
Guess What!
Although Sunny and Berry are twins, they look nothing alike!
Sunny and Berry are the 1st ever Lalaloopsy twins!
Gallery
Ad blocker interference detected!
Wikia is a free-to-use site that makes money from advertising. We have a modified experience for viewers using ad blockers

Wikia is not accessible if you've made further modifications. Remove the custom ad blocker rule(s) and the page will load as expected.