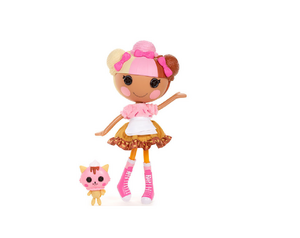 Scoops Waffle Cone was made from neopolitan ice cream. She's a triple scoop of fun who always keeps her cool. She loves variety, but has trouble making up her mind. She has a pet cat. Her little sister is Spoons Waffle Cone!
Sewn on Date: July 19th (National Ice Cream Day)
information
Sewn On:July 19th
Sewn From:ice cream
Likes: Trying new things
Dislikes: Melting
Most likely to say: "What's the scoop?"
Personality Of Scoops
Scoops Waffle Cone was once a rag doll who magically came to life when her very last stich was sewn.Shes a triple scoop of fun who always keeps her cool.She loves variety,but has trouble making up her mind...
What Scoops Looks Like
Hair Color:Vanilla,chocolate and strawberry!
Hairbow Color:Pink
What she wears:Scoops wears a wafer skirt with chocolate and caramel sprinkles printed on thre bottom.Around her waist there is a white ribbon and at the front there is a little apron that is white.Her top (which is attached to her skirt)is a pink fluffy one with stiched on darking pink sprinkles.
Her sewn on pattern on her skirt.
Other things on her:none
Shoes:Pink knee-high boots with white ends and laces, a lighter pink top and white socks.
Scoop's Pet
Scoops pet is an ice cream cat!His head is a scoop of stawberry icing with black button eyes and a nose with a mouth and whiskers.He also has darker pink cheeks.He has a dollop of whipped cream with chocolate sauce dripping from underneath,He has waffle cone ears and body,arms,legs and tail.
Scoop's Home
Roof: Lots of waffle cones,with chocolate sauce with sprinkles dripping down!
Wall Color: Yellow with white polka dots,hearts buttons and a ice cream deck to eat at.Underneath that deck is pink and white stripes and a green ribbon.on the side there is a little door so she can get inside to make icecream!
Scoop's Other Merchandise
Scoops serves ice cream mini playset with a green scoops waffle cone.
Scoops waffle cone original mini
Guess What!
On the poster,it shows that her cat's paws and feet were dunked into chocolate,when really it wasnt!
Her Pet is really a Cat made out of Ice cream!
Gallery