Dottyback is one of the Lala-oopsies horses.Ahe was released along with Sunstar , Seasquirt and Brittlestar.
What Dottyback looks like
Colour:Pinky/Purple
Pattern:Diagonal stripes
Horn colour:Pink
Hair colour:Orange
Wing colour:Light pink
Heart colour:Hot pink
Brush colour:Pink
Pet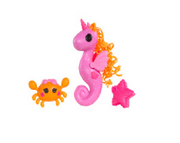 Dottybacks pet is a little orange crab.She has blush cheeks and a little pink bow to add style to her head!
Her possible counterpart
Her possible counterpart is Mermaid Anenome.
Gallery