Holly Sleighbells was the 24th Lalaloopsy doll to be released.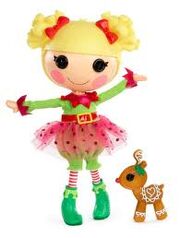 Information
Sewn On: December 3rd (National Mistletoe Day)
Sewn From: An Elf's Costume
Likes: Mistletoe
Dislikes: Empty Stockings
Most likely to say: "Happy holidays!"
Personality of Holly
Holly Sleighbells is a handy helper who loves to wrap presents- or anything else she can get her hands on. Her favorite thing to do is make a list and check it twice. If she could have one wish, she'd make every day a holiday!
What Holly Looks Like
Eye Color: Black
Hair Color: Blonde
Bow Color: Red
What she wears: Holly wears a green sweater with red spikes on the collar and sleeves. She also wears a red belt with a yellow buckle.
Her sewn on pattern on her dress: Pink background with hot pink polka dots
Other things on her dress: Little red cotton balls on the spikes of her collar.
Shoes: Holly has green elf shoes! She wears peppermint patterned stockings under them.
Holly's Pet
Holly has a cute reindeer! She looks like she's a cookie with icing. She wears a green bow at the top and has a red nose.
Holly's Home
Roof: Pink with white snow and icicles hanging from it.
Wall Color: Hot pink
Holly's Other Merchandise
Full Size Holly
Holly Mini
Holly "Sew Snowy" Mini
Guess What!
She has the same birthday as Snowy Fairest!