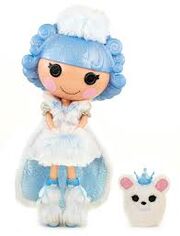 Ivory Ice Crystals™ was sewn on February 27th (Polar Bear Day) from a snow princesses dress. She's a delicate snowflake, who loves tiptoeing through fresh snow, decorating her ice castle, and making fancy icicle jewelry, even though it melts when the sun comes out. She has a pet bear.
Sewn on Date: February 27th (Polar Bear Day)
Likes: Lace Dislikes: Thin Ice
Ad blocker interference detected!
Wikia is a free-to-use site that makes money from advertising. We have a modified experience for viewers using ad blockers

Wikia is not accessible if you've made further modifications. Remove the custom ad blocker rule(s) and the page will load as expected.