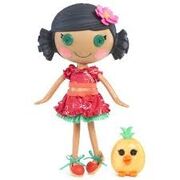 Mango Tiki Wiki™ was sewn from a dancer's grass skirt. She's an island girl who loves the sunshine. Her favorite hobbies are carving coconuts, listening to music, and making fresh flower bracelets. She has a pet bird.
Her little sister is Kiwi Tiki Wiki
Sewn on Date: May 2nd (Play Your Ukulele Day)
Personality
Mango is an Hawiian girl,although in lalaloopsy land,she just lives on a little sunny island just in the sea slightly outside of lalaland.she loves the sunshine,her favorite hobbies are carving coconuts, listening and playing music on the ukulele , making fresh flower bracelets for her and her friends and doing the Hawiian dance.
Ad blocker interference detected!
Wikia is a free-to-use site that makes money from advertising. We have a modified experience for viewers using ad blockers

Wikia is not accessible if you've made further modifications. Remove the custom ad blocker rule(s) and the page will load as expected.