Patch Treasurechest was the 13th Lalaloopsy doll to be released.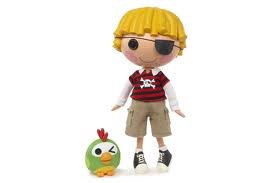 Infomation
Sewn On: September 19th (Talk Like a Pirate Day)
Sewn From: A pirate's clothes
Likes: Silver and gold
Dislikes: Stormy seas
Most likely to say: "X marks the spot!"
Personality Of Patch
When Patch Treasurechest takes a trip, he needs an extra suitcase for the treasures her collects along the way! He digs for shiny gemstones in the mountians and finds smooth shells at the beach. He's always ready for an adventure... but he's not always good at reading maps.
What Patch Looks Like
Hair Color: Yellow
What he wears: Patch Treasurechest wears a red and black striped t-shirt with a white skull and crossbones printed on the middle.He also has thinner white sleeves and collar. He wears trousers that are a greeny-browny color with little pockets on the sides.
His sewn-on pattern on his shirt :Black and Red stripes.
Other things on his shirt: If you look closely on his shirt, you can see that the crossbone is wearing a eyepatch. Patch also wears an eyepatch!
Shoes: Black tennis shoes with white ankle socks.
Patch's Pet
Patch's pet is a cute, green parrot with a yellow belly and red feathers on his head. He has an orange beak and feet and he has one eye winking and one eye open.
Patch's Home
Roof: The top of a treasure chest. Under it, it has beads and necklaces.
Wall Color: Light brown with a priate styled door and windows.
Patch's Other Merchandise
Full Size Patch
Patch Mini
Treehouse playset inclding Patch & Spot
Patch Soft Doll
Patch Micro
Guess What!
Patch is a pirate!
Patch was the 1st Lalaloopsy boy doll to be made!
Patch wears an eye patch!
Gallery
Ad blocker interference detected!
Wikia is a free-to-use site that makes money from advertising. We have a modified experience for viewers using ad blockers

Wikia is not accessible if you've made further modifications. Remove the custom ad blocker rule(s) and the page will load as expected.