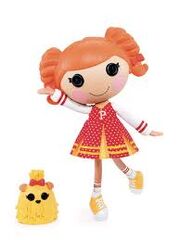 Peppy Pom Poms was the 21st Lalaloopsy doll to be released!
Information
Sewn On: September 9th (National School Spirit Day) Sewn From: A Cheerleader's Uniform Likes: Shouting Dislikes: grumpiness Most likely to say: Go, Team Lalaloopsy
Personality
When Peppy Pom Poms' last stitch was sewn, she cartwheeled to life! She's an energetic performer who loves to look on the bright side. She's also got great team spirit and always roots for her friends...really, really loudly!
What Peppy Looks Like
Eye Color: Black
Hair Color: Orange
Bow Color: Red
What she wears: Peppy wears a red cheerleader's dress with an orange collar and cuts. The uniform has white poka dots and a white "P" in the top. Her sleeves and socks are white and red.
Her sewn on pattern on her dress: White poka dots on a red background.
Other things on her dress: Red lines on the edge of her sleeve
Shoes: Peppy has yellow shoes with white laces.
Peppy's Pet
Peppy has a cute, yellow dog!
Peppy's Home
Roof:
Wall Color:
Peppy's Other Merchandise
Full Size Peppy
Peppy Mini
Peppy "Sew Sleepy" Mini
Guess What!
She was the 1st lalaloopsy redhead!
Gallery
Ad blocker interference detected!
Wikia is a free-to-use site that makes money from advertising. We have a modified experience for viewers using ad blockers

Wikia is not accessible if you've made further modifications. Remove the custom ad blocker rule(s) and the page will load as expected.