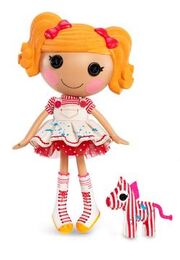 Spot Splatter Splash was the fifth Lalaloopsy doll to be released. Her little sister is
Scribbles Splash
!
Infomation
Sewn On: October 25th (International Artist Day, also Picasso's B-day)
Sewn From: A Painter's Overalls
Likes: Eating spaghetti
Dislikes: Cleaning up
Most likely to say: "Here's my greatest masterpiece!"
Personality
Spot Splatter Splash is a talented artist who loves bright colors and big ideas. She has a wild imagination and can find a creative way to make a big mess. One thing's for sure, it never get boring when Spot is around!
What Spot Looks Like
Eye Color:Black Hair Color: Yellow
Bow Color: Red
What she wears: A red and white striped shirt with a painters overall dress over it. She also has a red and white polka dotted ruffles under her skirt
Her sewn-on pattern on her dress: Blue paint splatters: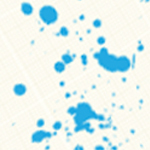 Other things on her dress: Red buttons on the straps on her dress
Spot's Pet
Spot has a cute, red and white striped zebra! If you look closely, it has blue paint splatters on it's back.
Spot's Home
Roof: Crayons
Wall Color: Red and White Stripes
Spot's Other Merchandise
Full Size Spot
Spot Silly Funhouse
Spot's New Masterpiece Mini
Spot Mini
Spot Paints Purple Mini
Spot Soft Doll
Spot Pencil Topper
Spot Silly Hair
Spot Micro
Guess What!
In Spot's mini's, zebra has different colorings!
Gallery
Ad blocker interference detected!
Wikia is a free-to-use site that makes money from advertising. We have a modified experience for viewers using ad blockers

Wikia is not accessible if you've made further modifications. Remove the custom ad blocker rule(s) and the page will load as expected.