Suzette La Sweet was the 23rd Lalaloopsy doll to be released. Her little sister is Mimi La Sweet!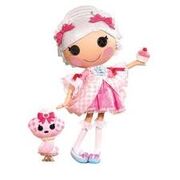 Information
Sewn On: December 9th (National Pastry Day)
Sewn From: A Duchess' Dress
Likes: Dressing Up
Dislikes: Getting Dirty
Most likely to say: "I need to put my feet up."
Personality of Suzette
Suzette La Sweet has a special talent for relaxing, reclining, and lounging about. She's perfected the art of eating sweets and taking long walks in her garden. But it's not long before she's lounging on the couch again.
What Suzette Look's Like
Eye Color: Black
Hair Color: White
Bow Color: Pink
What she wears: Suzette wears a puffed up dress with laced up sleeves. On the sleeves, she has little pink bows on the sleeves and pale blue bows on her collar.
Her sewn on pattern on her dress: White and pink plaids.
Other things on her dress: Suzette wears white tights with lace on the top
Shoes: Suzette wears pale blue ballet flats with little pink bows on them!
Suzette's Pet
Suzette has a cute, pink dog! She has a pink bow on her head and wears a white pearl necklace.
Suzette's Home
Roof: Pink lace canopy with a gold platform on top
Wall Color: Pink
Suzette's Other Merchandise
Full Size Suzette
Suzette Mini
Silly Hair Suzette
Guess What!
She might be wearing a wig!
Ad blocker interference detected!
Wikia is a free-to-use site that makes money from advertising. We have a modified experience for viewers using ad blockers

Wikia is not accessible if you've made further modifications. Remove the custom ad blocker rule(s) and the page will load as expected.