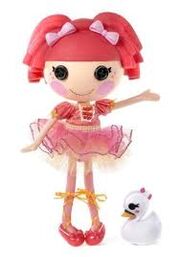 Tippy Tumblelina was the tenth doll to be released.She was released along with
Blossom Flowerpot
.Her little sister is Twisty Tumbelina.
Infomation
Sewn On Date: February 2nd (Two-Two, or Tutu)
Sewn From: A Ballerina's Tutu
Likes: The spotlight
Dislikes: Getting dizzy
Most likely to say: "This is tu-tu exciting!"
Personality
Tippy Tumblelina's toes are always tapping- it's hard to keep still when you're a ballet star! Sometimes she spins so fast that she tumbles to the ground. But Tippy's clumsiness never stops her from getting up and dancing some more!
What Tippy Looks Like
Hair Color: Red- Pink
Bow Color: Light Pink
What she wears: A dark pink dress with a pink, see-through tutu. Her sleeves are puffed up and has orange/yellow bows on them.Her sewn-on pattern on her dress: Dark pink, light pink, and regular pink stripes on a white background.Other things on her dress: A orange and white plad belt.
Shoes: Red- pink ballet shoes with yellow ribbons and pink tights.
Tippy's Pet
Tippy has a cute what swan! If you look closely, it has a pink bow on it!
Tippy's Home
Roof: A orange balcony with gold on top with a crown as a chimmy.
Wall Color: Red curtains with a gold embroidery on the sides.
Tippy's Other Merchanidse
Full Size Tippy
Tippy Mini
"Tippy's Ballet Recital" Mini
Tippy Pencil Topper
Tippy Soft Doll
Gallery